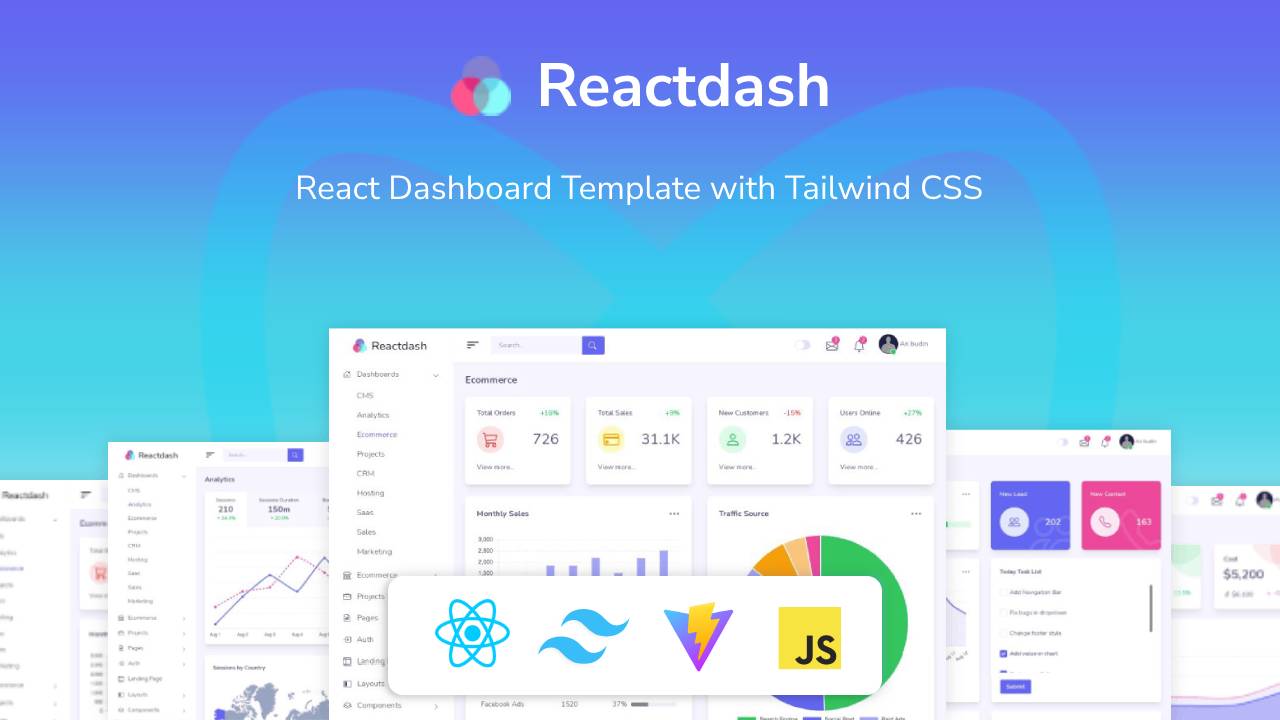 React Dashboard Template with Tailwind Css to propel your projects to new heights. This template not only accelerates development time but also introduces a myriad of features designed to enhance user experience and streamline your workflow.
Reactdash is engineered with speed in mind. Thanks to its carefully crafted structure and integration with the Vite modern build system, developers can experience a significant boost in development time.
Flat Design Aesthetics Dashboard
Reactdash boasts a sleek and modern flat design that not only looks visually appealing but also enhances user interaction. The clean and straightforward UI elements contribute to a user-friendly experience, making navigation intuitive and straightforward.
Light and Dark Mode
Customization is key, and Reactdash understands that. With built-in light and dark modes, users can tailor their dashboard to suit their preferences. Whether it's a well-lit workspace or a subdued environment, Reactdash adapts seamlessly to different needs.
Responsive Dashboard Across Devices
In the era of diverse devices, it's essential for applications to be responsive. Reactdash ensures a consistent and optimized experience across various screen sizes, from desktops to tablets and smartphones.
Ready-to-Use Components
Reactdash comes equipped with a vast array of ready-to-use components. These components are not only visually appealing but also highly functional, allowing developers to integrate complex features effortlessly.
9 React Dashboard Examples
Reactdash doesn't just stop at providing a foundation; it goes further by offering nine distinct dashboard examples.
Sales Dashboard
Gain valuable insights into your sales performance with the Sales dashboard. Track revenue, analyze trends, and make data-driven decisions.
Marketing Dashboard
Optimize your marketing strategies with the Marketing dashboard. Monitor campaign performance, analyze user engagement, and refine your marketing efforts.
Project Dashboard
Efficient project management is at your fingertips with the Project dashboard. Track tasks, collaborate with team members, and stay on top of project progress.
Hosting Dashboard
The Hosting dashboard provides a comprehensive overview of server performance. Monitor resource usage, track uptime, and ensure the seamless operation of your hosting infrastructure.
Ecommerce Dashboard
For online retailers, the Ecommerce dashboard is a game-changer. Manage products, track orders, and gain insights into customer behavior for a successful online store.
Analytics Dashboard
Data is king, and the Analytics dashboard empowers you to harness its full potential. Visualize data metrics, track user behavior, and make informed decisions based on real-time data.
Saas Dashboard
The Saas dashboard is tailored for software as a service providers. Monitor user subscriptions, track software usage, and optimize your Saas business model.
CRM Dashboard
Strengthen client relationships with the CRM dashboard. Manage interactions, track communication, and enhance customer satisfaction.
Html Version: https://tailwinddashboard.com/taildash-template/
In conclusion, Reactdash emerges as a powerful and versatile React Dashboard Template. With its emphasis on speed, modern build systems, flat design, and a plethora of pre-built dashboards, Reactdash is poised to elevate your development experience and deliver stunning, functional applications. Whether you're a seasoned developer or just starting, Reactdash provides the tools you need to succeed in the dynamic world of web development.